We started raising dairy goats in March of 1990 when we purchased two grade Nubians from a friend of ours. They were our learning tool for what was to come in the years ahead.
In a couple of years, two does turned into fifty head of goats that cleared pastures, provided enjoyment, and provided a source of meat for the local markets.
While driving through Indianapolis one afternoon, we saw a sign advertising the Hoosier Classic Show, which was taking place at that time. We took a detour and visited what was to be the start of a whole new adventure in our family life.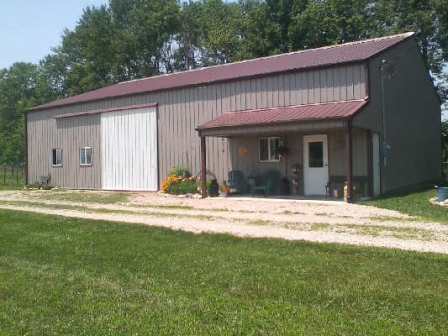 Within a month or so, we had purchased a trio of purebred registered Nubians from Bob and Judy Strahl of Columbus, IN.
At this point, we started to move our herd to a fully registered herd of Nubians and within a year, we were machine milking, hand-raising kids, and attending dairy goat shows.
Over the years, we have continued to raise Nubians, but along the way, we have added other breeds to our herd. We raised Toggenburgs for four or five years. This was an interest of my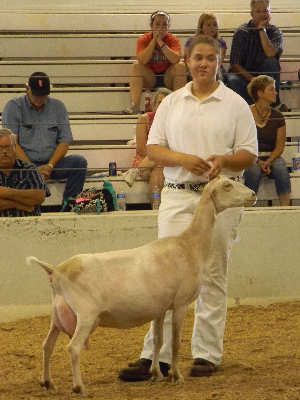 middle daughter, Ericka. They were sold off due to the fact that she would show Nubians and it would be me showing the Toggs. Boer meat goats came later with 4-H and FFA for my oldest daughter Kelcie. My youngest daughter, Claire, caused the LaManchas to appear on our farm.
We hope you enjoy visiting our website and welcome any questions you might have. Feel free to contact us if you see something you are interested in or would like further information. We are always happy to discuss our goats. Thanks so much for stopping by.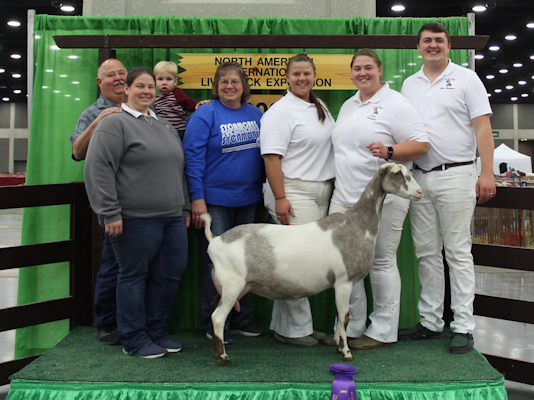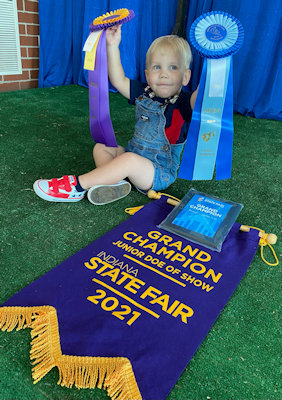 Family photo from 2021 NAILE Grandson, Brixten celebrating Indiana State Fair 2021

KECMR Nubians & LaManchas
Rob & Mary Ann Smith
Kelcie, Ericka and Claire
6312 West County Road 550 North
St. Paul, IN 47272
Cell: 812-593-1517
kecmr1@hotmail.com

LaMancha Sr. Does - LaMancha Jr. Does
Nubian Sr. Does - Nubian Jr. Does
Herdsires - Kidding Schedule/Sales Policy - Herd Triumphs - For Sale - Reference Animals - Links
Page last updated 12/12/2022
Website content copyright 2014-23 KECMR Nubians and LaManchas
Website design copyright Sunflower Web Design
Webhosting provided by